Please check back with this page frequently for Product Specials we provide on an ongoing basis. We will be including off-lease, new and demo models which can save you money.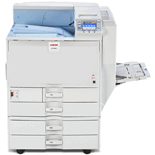 Lanier LP440c - Lease Return MSRP: $5,795.00 Your Price: $2,495.00
The Lanier LP440C Series Color Laser Printer helps offices bring more full-color documents in-house and regain control of your budget. This cost-effective printer produces a wide variety of jobs on all kinds of media, with in-line finishing. As a result, you can reduce outsourcing costs without sacrificing document quality or visual appeal.